RAW MATERIALS ENGINEERING
The research area of the ING-IND / 29 "Raw Materials Engineering" sector deals with the scientific and engineering aspects related to primary and secondary resources and to the characterization and treatment processes of raw materials such as minerals, rocks and secondary raw materials such as civil and industrial waste.
The research activity of the Raw Materials Engineering group is essentially aimed at the following topics:
CHARACTERIZATION OF MINERAL RAW MATERIALS AND SECONDARY MATERIALS - Laboratories: Multimodal Analysis and Solids Treatment
the group is a partner of Prometia and of the Raw Materials Laboratory with MISE and ANIM aimed at identifying a raw materials policy with a view to the national approach to circular economy. In the solids treatment laboratory, the group carries out researches relating to the petrographic and physical-mechanical properties with the purpose of recovering the materials and the enhancement of secondary raw materials recoverable from waste (WEEE, compost, glass). In particular, it is equipped for size and shape determinations, comminution tests, magnetic, electrostatic and gravimetric separations, flotation tests.
in the Multimodal Analysis Laboratory, massive, powder and liquid samples are studied both from the point of view of the elemental and mineralogical composition as well as of the morphology of the objects examined, using latest generation laser and X-ray source equipment, as well as sophisticated optical and electronic microscopy systems.
NATURAL STONES - Marble and Ornamental Stones Laboratory
pre-normative research in the field of ornamental and construction stones, in particular on their durability - workability with participation in European and National standardization committees;
protection of the stone materials used in the architectural heritage - HerSTONES project financed by UNESCO and IGCP; historical and contemporary dimension stones from all over the world are preserved as in the laboratory collection.
Marble and Ornamental Stones laboratory carries out tests for third parties according to national (UNI, CNR), European (EN) and North American (ASTM) technical standards.
ASBESTOS IN ARTIFACTS AND IN NATURE - Asbestos Laboratory
testings on artificial and natural materials containing asbestos are carried out in the 173PIE5 laboratory qualified by MOCF and SEM by the Ministry of Health pursuant to Ministerial Decree May 14, 1996.
| | | |
| --- | --- | --- |
| UPV (Ultrasonic Pulse Velocity | Contact sponge test | Tremolite asbestos in phase-contrast microscope |
https://areeweb.polito.it/rawmaterials/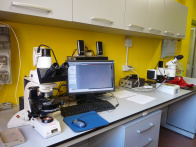 Faculty Other staff