ROSSANA BELLOPEDE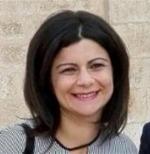 Associate Professor

+39 0110907738 / 7738 (D.IATI)
Rossana Bellopede si è laureata in Ingegneria per l'Ambiente il Territorio presso il Politecnico di Torino con votazione 107/110 e nel 2006 ha conseguito presso lo stesso Ateneo il titolo di Dottore di Ricerca. Da Dicembre 2019 è Professore Associato. Dal 2003 ha svolto didattica e ricerca nei seguenti ambiti: recupero e trattamento del marino di galleria e di altri sottoprodotti industriali, durabilità in opera di diversi materiali lapidei, fenomeni di incurvamento di lastre di rivestimenti esterni di facciata, procedure di prova per valutare il contenuto di amianto, ingegneria della sicurezza connessa in particolar modo alle attività minerarie e di industriali.
Scientific branch
ING-IND/29 - INGEGNERIA DELLE MATERIE PRIME
(Area 0008 - Ingegneria civile e Architettura)
Research topics

Individuazione delle migliori tecnologie e processi ai fini della valorizzazione e del recupero di scarti di scavo e lavorazione dei materiali lapidei e altre MPS.
L'analisi dei fenomeni di alterazione e di degrado della pietra, strettamene connessi con lo studio dell'evoluzione della porosità al suo interno con l'avanzare del degrado,
Ottimizzazione delle tecniche di caratterizzazione fisico meccanica dei materiali lapidei.
Skills and keywords

ERC sectors

PE8_3 - Civil engineering, architecture, maritime/hydraulic engineering, geotechnics, waste treatment

PE8_8 - Materials engineering (metals, ceramics, polymers, composites, etc.)

PE8_7 - Mechanical and manufacturing engineering (shaping, mounting, joining, separation)

PE10_10 - Mineralogy, petrology, igneous petrology, metamorphic petrology

SH3_13 - Science and technology studies

SH2_6 - Sustainability sciences, environment and resources

PE8_11 - Sustainable design (for recycling, for environment, eco-design)

SDG

Goal 13: Climate action

Goal 8: Decent work and economic growth

Goal 9: Industry, Innovation, and Infrastructure

Goal 17: Partnerships for the goals

Goal 12: Responsible consumption and production

Goal 11: Sustainable cities and communities

Keywords

Asbestos risk

Built heritage

Circular economy

Construction and demolition waste

Dimension stones

Heritage stones

Mineral processing

Solid characterization

Solid waste management

Waste treatment plant
Scientific responsibilities and other assignments

Fellowships

Advisor - ANIM - Associazione Nazionale Ingegneri Minerari, Italia (2019-)

Conferences

2nd International Workshop on Heritage Stones/ Politecnico di Torino, Università di Torino, ANIM, Italia, 5-7/10/2021, Participation to the organizing committee

Research networks

PROMETIA. Partecipazione (formalizzato).