Road Materials Laboratory
The Road Materials Laboratory of DIATI operates in the field of road infrastructures by means of teaching activities, research investigations, technical and scientific consultancies, and third-party services in accordance with art. 49 of the Consolidated Act - Royal Decree 1592/33. It is an official laboratory as identified by art. 59 of the D.P.R. n. 380/2001, authorized to issue certificates and test reports valid for the purpose of testing construction products.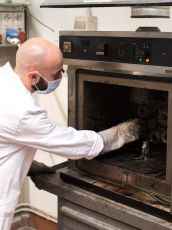 Rolling Thin Film Oven (RTFO)
Static press 50 kN
Servo-hydraulic universal testing machine 15 kN (AMPT)
Automatic furnace analyzer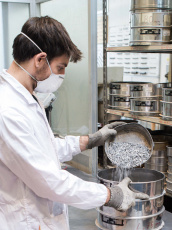 Sieves for particle size analysis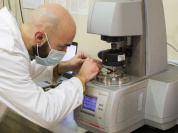 Rotational Shear Rheometer (DSR)
Iatroscan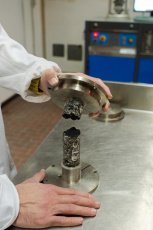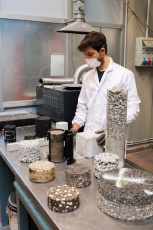 Materials for road pavements
Wheel tracker
Rheology room
TEACHING ACTIVITIES
The teaching activities carried out in the laboratory have the function of supporting the academic courses offered by the scientific sector ICAR/04 of the Politecnico di Torino. These include guided tours, supervised laboratory exercise sessions and internships.
For undergraduate students, proposed activities focus on the basic characterization of materials employed in the construction of transportation infrastructures, including bituminous binders, granular materials and soils. Equipment that is available for these activities includes:
The laboratory activities offered to Master's students are related to quality control and performance characterization of materials for roads, railways and airports. Among the equipment dedicated to teaching, the most important is the following:
The Road Materials Laboratory also supports PhD courses on the rheology of complex materials, with the use of the following equipment:
RESEARCH ACTIVITIES
Experimental scientific research activities are mainly developed in the field of materials used for the construction of road infrastructures, with an emphasis on the design of innovative and sustainable materials, and on the development of test protocols and new technologies. The laboratory also offers the possibility of developing experimental theses.
Among the laboratory equipment used in research, the following can be mentioned:
The main equipment used for field activities includes:
ACTIVITIES SUPPORTING PUBLIC AND PRIVATE BODIES AND COMPANIES IN THE ROAD SECTOR
Thanks to the skills of the ICAR/04 research group, the Road Materials Laboratory can assist its clients in solving specific design and construction problems, in managing disputes and in the scientific coordination of development activities and industrial research.
Third-party activities include laboratory and field tests for the control and verification of materials, pavements and works performed for the construction of road infrastructures. Issued certificates are valid for the verification of construction products (e.g. CE marking).