CARLO VINCENZO CAMPOREALE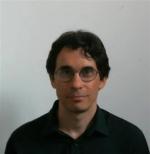 Full Professor

Member of Interdepartmental Center (SmartData@PoliTO - Big Data and Data Science Laboratory)

+39 0110905649 / 5649 (DIATI)
Carlo Camporeale was born in Torino (Italy), on March 2nd, 1976.
Since August 2014 he is Full Professor at Politecnico di Torino, Department of Environmental and Land Engineering. He is member of the Group of Environmental Fluid Mechanics.
Scientific Education
2001: Master's Degree in Environmental Engineering at Politecnico di Torino in July 2001 with a thesis on the "Analysis of coherent structures in wall turbulence: classical methods and phase space".
2005: Ph.D. in Hydraulic Engineering at the Polytechnic of Turin with thesis on "On the short- and long-term behaviour on meandering rivers", supervised by Prof. Luca Ridolfi and Amilcare Porporato.
2019: Master's Degree in Physics of Complex Systems at University of Turin cum laude.
Awards
In September 2008 he received the "Torricelli Award" of the GII ("Gruppo Italiano di Idraulica") for the best young italian researcher in hydraulics in the years 2006/2008.
Scientific production
He is author of more than 80 pubblications on ISI peer-reviewed international journals and attended nearly twenty national and international conferences. His scientific activity mainly concerns fluid mechanics with a particular attention to the morphological instability of geophysical flows, river mechanics, stochastic modeling in biomorphodynamics and hemodynamics.
Scientific branch
ICAR/01 - IDRAULICA
(Area 0008 - Ingegneria civile e Architettura)
Research topics

Large scale motion in open channel modeling
Paleoclimatic modeling
Active fluids
Carbon cycling in river systems and natural based solution to carbon sequestration
Pattern formation in spelogenesis and paleoclimatic reconstrction
Dynamics of riparian vegetation
Skills and keywords

ERC sectors

PE10_9 - Biogeochemistry, biogeochemical cycles, environmental chemistry PE10_14 - Earth observations from space/remote sensing PE8_5 - Fluid mechanics, hydraulic-, turbo-, and piston engines PE10_17 - Hydrology, water and soil pollution PE10_13 - Physical geography PE10_4 - Terrestrial ecology, land cover change

SDG

Goal 6: Clean water and sanitation Goal 13: Climate action

Keywords

Hydrodynamic instability Morphodynamics Pattern formation Riparian vegetation Rivers Stochastic processes
Scientific responsibilities and other assignments

Awards and Honors

Premio Torricelli conferred by Gruppo Italiano di Idraulica (http://www.gii-idraulica.net/), Italy (2008)

Fellowships

Editorial boards

ADVANCES IN WATER RESOURCES (2022-2025), Associate Editor of magazine or editorial series
WATER (2021-), Associate Editor of magazine or editorial series
FRONTIERS IN ENVIRONMENTAL SCIENCE (2021-), Associate Editor of magazine or editorial series
GEOMORPHOLOGY (2020-2021), Guest Editor of magazine or editorial series
FRONTIERS IN ENVIRONMENTAL SCIENCE (2018-2019), Guest Editor of magazine or editorial series
AIMS GEOSCIENCES (2018-), Associate Editor of magazine or editorial series
ADVANCES IN WATER RESOURCES (2016-2017), Guest Editor of magazine or editorial series
View more

Research networks