ALBERTO MANUEL GARCIA NAVARRO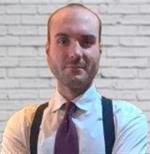 Visiting Staff - Borsa di studio per attività di ricerca non tassata

Outside Collaborator - DIATI Polito (2021). Focus on cluster analysis of antropic-related subsidence phenomena using InSAR data, developing innovative strategies to apply it to the characterization of the phenomenon, due to underground gas storage (UGS) operations, over the Emilia-Romagna and Lombardy regions in Italy.
Petroleum and Mineer Engineering, POLITO 2021, with the thesis: Application of the data clusterization approach to the satellite measures of altimetric variation in the Emilia-Romagna Region (Italy). Tut. Vera Rocca, Alfonso Capozzoli, Luisa Perini.
Petroleum Engineering. Universidad Central de Venezuela, 2017 - Pending diploma, double-degree agreement POLITO-UCV.
Hard background in reservoir engineering, project management and programming (R).
| | |
| --- | --- |
| Research topics | Cluster Analysis for anthropic-related subsidence characterization and assessment (focus on the underground gas storage over the Emilia-Romagna and Lombardy regions in Italy) |
Skills and keywords

Keywords

Cluster analysis Insar data Machine learning Oil&gas Petroleum engineering Project management R programming Subsidence Ugs Underground gas storage