ROSSANA BELLOPEDE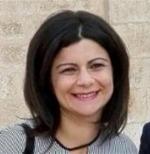 Associate Professor

Member of Interdepartmental Center (SISCON - Safety of Infrastructures and Constructions)

+39 0110907738 / 7738 (DIATI)
Research projects

Funded by competitive calls

SHOWCAVE: a multidisciplinary research project to study, classify and mitigate the environmental impact in tourist caves, (2020-2023) - Responsabile Scientifico

Nationally funded research - PRIN

Countries

Institutes/Companies

UNIVERSITA' DEGLI STUDI DI TORINO

Departments

CO2 Circle Lab, (2018-2021) - Responsabile Scientifico

Regionally funded research

Abstract

La gestione delle emissioni di CO2 di origine antropica nell'atmosfera è certamente una sfida attuale, ma èanche un potenziale e straordinario promotore di innovazione, sia a livello di ricerca che di sviluppotecnologico ed industriale. Nell'ottica di un'economia sostenibile, IIT e Politecnico di Torino propongono ilpotenziamento dei laboratori preesistenti presso Politecnico di Torino e Environment Park, attraverso laconfigurazione di una infrastruttura (IR) che promuova l'incontro tra ricerca fondamentale e applicata,attivando e consolidando collaborazioni di alto valore scientifico e tecnologico con molteplici settoriindustriali. L'IR si focalizzerà sullo sviluppo di processi biotecnologici, elettrochimici e termochimiciinnovativi, per la formazione di prodotti ad elevato valore aggiunto da materie prime rinnovabili (CO2,biomasse), garantendo una gestione dei processi sostenibile, ricorrendo alla modellizzazione di scenari peruna solida analisi delle strategie energetiche.

Countries

Institutes/Companies

FONDAZIONE ISTITUTO ITALIANO DI TECNOLOGIA

Departments

Ricerca
Trasferimento Tecnologico e Relazioni con l'Industria

Funded by commercial contracts

Supporto tecnico per la definizione di misure attuative del PianoRegionale della Qualità dell'Aria, inerenti la caratterizzazione del particolato atmosferico proveniente da diverse sorgenti e valutazione degli impatti su base spaziale e stagionale mediante trattativa diretta su piattaforma SINTEL, (2021-2023) - Responsabile Scientifico

Commercial contracts for the provision of services

Countries

Institutes/Companies

Sviluppo della "Work Packages n. 2 - Qualità del compost", (2021-2023) - Responsabile Scientifico

Commercial Research

Countries

Institutes/Companies

GAIA - GESTIONE AMBIENTALE INTEGRATA ASTIGIANA SPA

Departments

Certificato n. 02/58/17 - Rogliatti Beatrice - Bellopede - Determinazione della presenza di amianto in un campione di coibentazione, (2017-2017) - Responsabile Scientifico

Analysis and testing

Countries

Resistenza alla macchiatura dei materiali lapidei, (2016-2017) - Responsabile Scientifico

Commercial Research

Countries

Institutes/Companies

ANTOLINI LUIGI &amp
C. SpA

Departments
Other activities and projects related to research
Bellopede research activity has been developed on recovery and treatment of solid waste, durability of natural stone, bowing of natural stone slabs, testing to asbestos content measure. Following the description of the main research projects carried on:
Recycling and processing of tunnel muck and stone waste and other secondary raw material. Within the REMUCK project "Innovative methods for the eco-compatible and sustainable recycling of muck from tunnel excavation, also considering the potential content of noxious minerals" she is studying on the basis of the petrographic, physical and mechanical properties the possible uses of the muck like primary mineral raw material.
Evaluation of durability of different natural stones. Within the European project McDUR ("Effects of the Weathering On Stone Materials: Assessment of their Mechanical Durability, VFP) she studied different NDT techniques to evaluate, both in situ and in laboratory, the durability of natural stones. Within the European project TEAM (Testing and Assessment of Marble and Limestone, V PQ) she studied, by means of laboratory tests and accelerated ageing cycles on marble specimens, the causes of bowing phenomenon on façade marble slabs.