DANIELE PEILA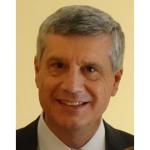 Full Professor

Componente Consiglio Scuola Master (Specialising Master's Programmes and Lifelong Learning School)

+39 0110907607 / 7607 (DIATI)
Prof. Daniele Peila graduated cum laude as Mining Engineer in 1987 at Politecnico di Torino where, after a period as field engineer in construction firms, he become before research assistant and then professor.
He presently is Full Professor at Politecnico di Torino teaching "Tunnelling" and "Reinforcements of soil and rock" and he is Director of the Post-graduate Master Course on "Tunnelling and Tunnel Boring Machines".
He is member of the Board of the Specializing Master and Lifelong Learning School of Politecnico di Torino and head of the DIATI laboratories "Tunnelling and Underground Space" and "Rock fall protection Engineering" at Politecnico di Torino.
He has been vice-president of International Tunnelling and Underground Space Association and since 2013 acts as vice-president Italian Tunnelling Association.
He has been Editor "Tunnelling and Underground Space Technology" and presently is Editor in Chief of the "Environmental and Mining Geo-engineering" Journal and member of the editorial board of many international journals.
His fields of specialization are: tunnelling (conventional and mechanized), mining and rock-fall protection.
In these fields he acted as person in charge of many research projects and is author of more than 250 papers published on both international journals and congress proceedings.
Furthermore, he is often called upon to give worldwide lectures and seminars for events organized by International Universities (among which INSA Lyon; Queen's University (CA); Colorado School of Mines ; National Technical University of Athens; ETH; Universitat Innsbruck; SUPSI (CH); Technical University of Petrosani (Romania), Italian Universities (among which Politecnico di Milano, Rome "La Sapienza", Udine, Trento, Palermo, Florenze, Genoa and Piemonte Orientale)
Ha regularly delivers lectures and seminars for the Italian Boards of Engineers and of Geologis and has delivered lecture for International life learning courses or key notes in Salisburg, Teheran; Guadalajara (Mexico); Kuala Lumpur; Santiago; Geneve; Seoul; Montreal; Bangkok; Sinliurfa (Turkey); Lyon; Bern; Warsaw; Ljubljana; Buenos Aires; Vancouver; Washigton; Budapest; Praga; Istanbul and Lyon.
Scientific branch
ING-IND/28 - INGEGNERIA E SICUREZZA DEGLI SCAVI
(Area 0008 - Ingegneria civile e Architettura)
Research topics

rockfall engineering and rock fall protection devices design
Surface and underground mining
Tunnelling and underground works (Ground improvement and tunnel supports; Soil conditioning for Earth Pressure Balance Shield tunnelling; Rock TBMs and Microtunnelling, Use of underground space for civil purposes)
Skills and keywords

ERC sectors

PE8_3 - Civil engineering, architecture, maritime/hydraulic engineering, geotechnics, waste treatment

SDG

Goal 9: Industry, Innovation, and Infrastructure

Goal 15: Life on land

Goal 11: Sustainable cities and communities

Keywords

Arte mineraria

Costruzione di gallerie

Frane

Landslides

Mining

Opere di protezione contro la caduta massi

Rockfall protection devices

Rockfalls

Tunnel boring machine

Tunnelling
Scientific responsibilities and other assignments

Awards and Honors

Honorary Affiliate Member conferred by International Tunneling and Underground space Association, Svizzera (2016)

Fellowships

Editorial boards

TUNNELLING AND UNDERGROUND SPACE TECHNOLOGY (2010-), Director
GEAM. GEOINGEGNERIA AMBIENTALE E MINERARIA (2007-), Director

Management

Technical Director - ITACET Foundation (2007-2014)

Conferences

World Tunnel Congress 2019: Tunnels and Underground Cities: Engineering and Innovation meet Archaeology, Architecture and Art/ Società Italiana Gallerie, Italia, 1/1-9/5 2019, Program chair

Research networks

Consiglio Superiore dei Lavori Pubblici - Gruppo di lavoro per la redazione e il successivo aggionamento delle linee guida EOTA per il prodotto Barriere paramassi a rete. Partecipazione (formalizzato).
Consiglio Superiore dei Lavori Pubblici - Gruppo di lavoro per la redazione di linee guida sulle attività di indagini, ispezioni, manutenzione e messa in sicurezza delle gallerie stradali esistenti. Partecipazione (formalizzato).