Survey Laboratory
In several decades of activity, the Topography laboratory has transmitted the principles of topographic measurement to thousands of students in the civil, construction and environmental area.
In addition to the classic optical mechanical instrumentation, now historical, the Topography laboratory is equipped with modern precision electronic instruments: levels, classic and motorized total stations, GNSS receivers, inertial platforms IMU, LiDAR, with the related processing software.
The laboratory supports research on satellite positioning, inertial positioning and integrated Mobile Mapping System. The laboratory includes the permanent GNSS station which is part of the inserted EUREF network, from 1996
The laboratory carries out instrumental adjustments, customizations and creation of accessory instruments and prototypes for research and external consultancy.
TEACHING AND RESEARCH FACILITIES
Trimble S7
GNSS Spectra Precision SP80 e Trimble TSC3
ScanStation Leica MS50 e GNSS GS14
GNSS Receivers Leica GS18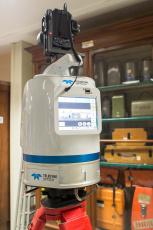 LIDAR POLARIS OPTEC
Accessories and topographic signals
Workstations
illimeter sled
Trimble S7: Robotic Total Station
GNSS Spectra Precision SP80 e Trimble TSC3: Multi frequency and multi constellation Geodetic GNSS Receivers
ScanStation Leica MS50 e GNSS GS14: Integrated total station and GNSS Receivers
6 total stations Cygnus di Topcon: Didattic total stations
IMU Ellipse D di Ekinox: Inertial measurement unit ang integrated GNSS receiver
GNSS Receivers: Multi frequency and multi constellation Geodetic GNSS Receivers, with inclinometer
S7 of Stonex: Multi frequency and multi constellation Handheld GNSS Receivers
LIDAR POLARIS OPTEC: Longe range LiDAR - in collaboration with cc@GlacierLab
KAARTA STENCIL: SLAM portable lidar - in collaboration with cc@PaleoLab
Accessories and topographic signals: Reflector, poles, basements
Millimeter sled: Guide for controlled movements
DNA03 di Leica Geosystems: Very High Precision Digital Levelling
2 NA3003 di Leica Geosystem: Very High Precision Digital Levelling
6 NA2002 di Leica Geosystem: Precision Digital Levelling
Starter di Leica Geosystems: Digital Levelling
GNSS Permanent station: Multi-frequency and multi-constellation GPS GLONASS and GALILEO Leica GRX1200 + GNSS geodetic receiver, with choke ring antenna
Bernese: Scientific software suite for GNSS data processing
Trimble TBC: Scientific software suite for GNSS, total station and photogrammetric data processing
LEICA Infinity: Suite for GNSS data processing
Cargo Bike: Cargo pedal-assisted bike
Historical topographical instruments
Type

Teaching and research laboratory

Site

DIATI3

Phone

+39 0110907658

E-mail

Staff

Alberto Cina - Scientific Manager

Iosif Horea Bendea - Technical Manager