MARIACHIARA ZANETTI
Full Professor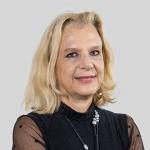 Scientific branch
ICAR/03 - INGEGNERIA SANITARIA-AMBIENTALE
(Area 0008 - Ingegneria civile e Architettura)
Publications
PORTO@IRIS - Publications Open Repository TOrino
Curriculum
Curriculum file (146 KB)
Expand text

Mariachiara Zanetti, si è laureata in Ingegneria Mineraria presso il Politecnico di Torino il 19 luglio 1989 con voti 110/110 ed ha conseguito l' abilitazione alla professione di ingegnere nella seconda sessione del 1989.
Nel triennio 1991 - 1993 ha svolto il dottorato di ricerca in Impianti Chimici presso il Dipartimento di Scienza dei Materiali e Ingegneria Chimica del Politecnico di Torino.
Nel triennio 1996-1999 ha prestato servizio presso il Dipartimento di Georisorse di Territorio del Politecnico di Torino con la qualifica di Ricercatore non confermato nel settore scientifico disciplinare ING-IND/29 Ingegneria delle Materie Prime. Dal 1 dicembre 2002 è professore associato nel settore ICAR/03. Dal 1 novembre 2006 è professore straordinario nel settore ICAR/03. Dal 1 ottobre 2007 è Direttore del Dipartimento DITAG del Politecnico di Torino.

L'attività scientifica ha riguardato i seguenti campi di ricerca :

- Analisi della quantità e qualità del percolato prodotto da discariche.
- Applicazione di membrane iono-selettive mediante elettrodialisi per il trattamento di acque reflue industriali.
- Analisi della quantità e della qualità del biogas prodotto da discariche di rifiuti solidi urbani.
- Rilascio di microinquinanti di origine industriale da sedimenti fluviali.
- Trattamento e recupero di frazioni utili da rifiuti di fonderia .
- Caratterizzazione e monitoraggio non invasivo di inquinanti organici in suoli contaminati.
- Tecniche di bonifica di suoli e falde inquinati.
- Validazione statistica ed interpretazione di dati acquisiti mediante monitoraggio atmosferico.
- Riutilizzo di acque reflue civili a scopo industriale ed agricolo.

E' stata relatrice di diverse tesi di laurea inerenti tematiche ambientali ed ha collaborato al corso di perfezionamento in Tutela dell'Ambiente del Politecnico di Torino, al Master in Ingegneria per l'Ambiente e il Territorio del COREP e alla Scuola Internazionale dell'acqua HYDROAID.


Mariachiara Zanetti, born in Turin on the 10th of September 1964, graduated in Mining Engineering at Polytechnic of Turin on the 19th of July 1989 (mark 110/110) and achieved her professional abilitation in the second session of 1989.
On the 1st of January 1990 she started an annual scholarship sponsored by AGIP Petroli, developed at the Energetic Department of Polytechnic of Turin.
In the period 1991-1993 she attended her PhD in Chemical Plants at Material Science and Chemical Engineering Department of Polytechnic of Turin.
In the period 1996-1999 she was assistant professor at the Georesources and Territory Department of Polytechnic of Turin. From the 1st of December 2002 she is Associate Professor. From the 1st of November 2006 she is ordinary professor. From the 1st of October 2007 she is the Head of the DITAG Department of the Polytechnic of Turin.

Her scientific activity concerned the following research fields:

- Analysis of quality and quantity of landfill leachate;
- Ion-selective membranes application by means of electro-dialysis in industrial wastewater treatment;
- Analysis of quality and quantity of biogas produced by a municipal solid waste landfill;
- Industrial micropollutants leaching from river sediments;
- Treatment and recovery of useful products from foundry wastes;
- Characterization and non invasive monitoring of organic pollutants in contaminated soils;
- Polluted soil and groundwater remediation techniques;
- Statistic validation and interpretation of data acquired by means of atmospheric monitoring;
- Municipal wastewater reuse for industrial and agricultural aims.

She was tutor of numerous Master theses concerning environmental topics, and she cooperated with the post lauream course in Environment Defence at Polytechnic of Turin, the Environmental Engineering Master of COREP and the International Water School Hydroaid.